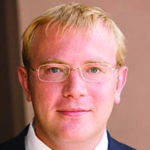 Andriy Shevchenko
Ambassador of Ukraine to Canada
---
Director Kravchenko and distinguished guests, it is a great honour for my wife, Hanna, and me to be at this very special event. It is meaningful in many ways.
Firstly, it is a great opportunity to show respect and thank several generations of scholars who have done so much to make the Canadian Institute of Ukrainian Studies the leading Ukrainian academic institution in the Western hemisphere. Thank you so much for what has been done in these forty years!
Secondly, this event is an important moment during which to celebrate the wonderful co-operation that made this institute's existence possible and fostered its success.
The Institute started as a very successful joint initiative of the Ukrainian-Canadian community and the government of Alberta. It shows us the results we can achieve together when the Ukrainian-Canadian community, which has made such a wonderful contribution to this great country, the government, and academia work shoulder-to-shoulder. When we have visionary leaders, when we have people who take responsibility, this is the wonderful result that we can achieve together.
Thirdly, it is also a meaningful opportunity to rethink what the field of Ukrainian studies is and contemplate what it can be.
As we witness the geopolitical drama in and around Ukraine, it becomes clear that Ukraine's experience is providing very crucial and important keys to understanding the future. If we understand Ukraine and what Ukrainians are going through, we can better understand the direction in which the world is travelling, why empires collapse, even the last of them, why nations survive, and what helps them survive.
Siohodni—velyke sviato, tse sviato Pokrovy Presviatoï Bohorodytsi,[1] and as many of you know, in Ukraine we celebrate this holiday as the day when we pay our respects to the warriors, our defenders. It is fair to say that today our thoughts and prayers are with those who physically defend Ukraine and the free world in the east of Ukraine. However, in a broader sense, all of you are defenders of Ukraine because you are defending our identity; you are defending our mind and soul, and again, it is a great honour to see such a wonderful mix of individuals who have been doing so much in this field because, at the end of the day, this is what we fight for. Thank you very much for helping us assert the right to choose our own destiny.
On behalf of Ukraine, I would like to congratulate the Canadian Institute of Ukrainian Studies and all those associated with this institution, and I wish all of us a productive conference.
[1]    "Today is a major holy day, the Feast of the Protection of the Most Holy Mother of God."