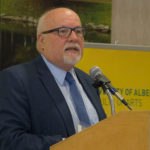 Frank Sysyn
CIUS
FRANK SYSYN is the director of the Peter Jacyk Centre for Ukrainian Historical Research at the Canadian Institute of Ukrainian Studies and editor-in-chief of CIUS's Hrushevsky Translation Project. He is a co-editor of Culture, Nation and Identity: The Ukrainian-Russian Encounter (1600–1945) (2003) and author of Between Poland and Ukraine: The Dilemma of Adam Kysil, 1600–1653 (1985) and Mykhailo Hrushevsky: Historian and National Awakener (2001). He graduated from Princeton University (1968), the University of London (1969), and Harvard University (PhD 1976), taught at Harvard University (1976–85), and was an associate director of the Harvard Ukrainian Research Institute (1985–88). He served as acting director of CIUS in 1991–93 and currently serves as head of its Toronto Office.
---
As my predecessors have turned to the future, and there is going to be much to discuss about their presentations as well as subsequent ones, I will, for this purpose, stick to the past and two specific times in Ukrainian studies that come out of my own experience—that is, when I was involved and eventually wound up as a graduate student and junior faculty member at Harvard, during the time of the formation of the Ukrainian Research Institute there, and the initial period when I came to CIUS between 1990 and 1993.
My first topic is what I will call "Legitimizing Ukrainian studies in the US." This topic has already been mentioned earlier in our presentations, but I think it is essential for understanding what the Harvard Institute meant and what that project brought about. I would like to start with the role of émigré scholarly institutions. I think we have a tendency to rush ahead to the universities and mainstreaming into North American academia, and sometimes forget how great their contribution was.
In the New York metropolitan area, where I grew up, during the 1950s and 1960s the Ukrainian Academy of Arts and Sciences (UVAN) was formed, the Shevchenko Scientific Society was re-established in the US, and the Bound Brook Center was built, whose church was a memorial to the Holodomor (or the Great Famine, as we called it). I would add one more institution associated with the emigration (but I think chiefly funded by the CIA), and that was Prolog.[1] By the time I came into this field in the mid-1960s, there was a vibrant Ukrainian intellectual academic life going on because of these institutions. They provided a counter-narrative to most of what academia was doing. They certainly were institutions that were reaching out to the academic world. Not only did Prolog put out the Digest of the Soviet Ukrainian Press in English, but UVAN was able to put out the Annals of the Ukrainian Academy of Arts and Sciences in the United States, which for that period produced much of the valuable literature in English. I propose in our discussion we talk about that émigré phase and what it meant. I think it would be a valuable topic.
Academically, Ukrainian studies in the US and in Canada developed very differently. Ukrainian language and literature were taught at the University of Saskatchewan starting in the 1940s, and they already had a place here in Canada. The existence of a large number of people virtually not speaking English in the Canadian West around 1900 meant that small Ukrainian-English dictionaries were published in Canada around the First World War, and the University of Saskatchewan already published a major academic dictionary in 1955.[2] In Canada, the society, government, and academia had to be aware that Ukrainian was a language, because they had to deal with the Ukrainian community—this was much less so in the US, where Ukrainian studies there were largely Sovietology in political science departments. We think of the early-phase professors—Adams, Armstrong, Sullivant, Reshetar, Bilinsky—putting out their books, and research on Ukraine could find a place as long as it fit in Sovietology.
I remind you that "Soviet history" largely did not exist in the 1950s and 1960s in history departments: almost everywhere courses on the Soviet Union was taught in political science or government departments. It would move to history departments only later, especially when Soviet archives were opened to some Western scholars. Even in my own career as a Princeton undergraduate, I wrote a thesis at the Woodrow Wilson School of Public and International Affairs, with an advisor from sociology, on the contemporary Ukrainian intelligentsia of the 1950s and 1960s. Ukraine therefore had found a place in social sciences, but had a much more difficult time finding a place in history departments. It would have been much harder for me to go to Cyril Black or James Billington, our professors of history, as an undergraduate with a historical topic. It is true that Bob Magocsi was able to work on a Ukrainian topic as a graduate student, though he dealt with the Habsburg Empire and Transcarpathia, but I still maintain that history as a field was more resistant to Ukrainian topics. This in part explains the model that Omeljan Pritsak came up with to meet the needs of Ukrainian legitimization in North America, that is, the formation of what might be called a "traditional" research agenda.
The history, language, and literature initiative came about—at least by urban legend, and I am trying to verify this—because around the mid-1950s Ukrainian students at New York University asked that the Ukrainian language be taught. The then-Russian (I assume, if not Slavic) Department said that "we teach languages, not dialects." This was the stimulus for the Ukrainian Student Society in New York to begin the so-called "Fond katedr ukraïnoznavstva" (Ukrainian Studies Fund). Now, I do not know if this account is accurate—I do not sell this as necessarily true, yet it does convey attitudinally the situation at that time—but as we
know, it was SUSTA[3] and the student hromady that began the koliada[4] for the Ukrainian chair that by the mid-1960s raised $250,000, largely to form what they saw as a needed chair in Ukrainian studies that would give Ukrainian subjects some recognition.
It was at this time, when George Shevelov was at Columbia, that the endowment might have gone there, but as we know, for a number of reasons it did not. At that time, I believe a chair at Columbia cost $900,000, and one at Harvard $600,000; Harvard was a bargain in those days. But really it was Omeljan Pritsak and his proposals—which were definitely for a European research institute, three traditional chairs, in many ways meeting both the pattern of the Shevchenko Scientific Society, where he had begun his scholarly career, and the concept of chairs at universities that goes back to Austrian times—that won out. The plan was to have a journal and to carry out research projects. It was evidently not American in its conceptualization; and at Harvard, because professors in those days particularly had tremendous latitude within the university, he was able in many ways to accomplish this, although it did not fit the model of the American-type regional studies centres terribly well.
But it did have one great success, and one I would bring up. In 1970, I believe, Franklin Ford, the dean of Harvard, writes to Omeljan Pritsak. I have that letter, which states (this is a paraphrase not a direct quote), "We are amazed at how you have shown that Ukrainian studies is a way of understanding world history and world affairs. You have shown that it is not a narrow field."
I might add that one of the things I found very troublesome was that a PhD from this university once wrote that the problem with Ukrainian studies was the existence of the two "ethnic institutes," CIUS and Harvard. I really thought that the Harvard institute, as it was formed, was something to reach far beyond any ethnicity, in the way that both Pritsak and Ihor Ševčenko conceptualized it. [Certainly anyone who examines the Minutes of the Seminar in Ukrainian Studies published in the 1970s can see what an international array of scholars, in particular from Poland and Israel, participated in the Harvard Ukrainian studies initiative.] Did it have impacts that were important? Yes, I think, many.
Let me give one example: Paul Hollingsworth, who was for some time at Harvard, points out [in an introduction that will be published in volume 2 of Hrushevsky's History of Ukraine-Rus'] how in his own career as a graduate student at Berkeley, reading the publications from Harvard made him rethink "Kievan Russia" and understand it was "Kyivan Rus'." There were areas—medieval and early modern studies—where HURI had great impact; certainly the journal[5] did. The Institute also was embedded in an entire world of Ukrainian academics throughout the US and in Canada. There were scores of academics who were associated with Harvard (we could count them up by checking the Ukrainian professors' association numbers); they no longer exist in such numbers. Bob Magocsi has very well described the collapse of the academic market that brought many Ukrainian specialists to Canada. And therefore, in my three minutes left, I will describe my arriving at CIUS in 1990.
I came to CIUS at a point where the Institute had greatly benefited from the official Canadian multiculturalism policy. I arrived in 1991 just as the centennial of the Ukrainian immigration (or community) in Canada was being celebrated. Because Bohdan Krawchenko, who is not here today, then left immediately on my arrival for a two-year sabbatical and leave of absence in Ukraine, I was the acting director of the Institute. At the Royal Ontario Museum we had a huge Shevchenko lecture in 1991, sponsored by the then very active P & B club, at which William Thorsell got up and basically said, "Forget this multiculturalism nonsense. You know, I spent my life leaving my Alberta Norwegian roots." So it was an interesting moment, because you had the editor of the Globe and Mail telling a hometown community that he did not believe in multiculturalism. This was also the year that Prime Minister Brian Mulroney came to Edmonton to address the community for the centennial of immigration, and the Ukrainian community basically made a fait accompli by giving him a letter from the Ukrainian government (which CIUS arranged) asking for recognition of Ukraine as an independent state. The action evoked a positive response from a prime minster who saw Ukrainian Canadians as a major political force. This indeed was also a high point of the contact of CIUS with a dynamic, organized community that Professor Lupul discussed. It was a period when a number of grand projects were coming to an end, above all the Encyclopedia of Ukraine, in which the Institute was totally involved, including the Edmonton office, where we had to review fifty pages a day of that encyclopedia.
So it was ending a period of what might be called pioneer projects and multiculturalism, but it was a time just after the matching of endowments—and double-matching from the Government of Alberta—when the Institute received a large number of endowments, the largest of them being that of the Jacyk Centre, which brought me here. The Institute was adapting, in a way, to this new source of funding, which proved in the 1990s to be extremely important, above all because when cuts hit the university, the Institute was somewhat cushioned.
What emerged from all this was a period that I will call the "pivot to Ukraine"—that is, in practice, the Institute became very involved with Ukraine, and this shaped it for its future. We had tremendous freedom in those days to work in Ukraine, and we are grateful to the University of Alberta administration of those days, above all the Office of the Vice-president for Research, that they encouraged us to be involved in Ukraine. We opened up a CIUS office in Kyiv. These were times, you remember, when you had to put money in a pocket and take it to Ukraine. There was no way to transfer money. We had to find ways of doing things very rapidly, and we also were able to provide assistance for many institutions. Some of the projects were big successes in those days; we should talk about what it meant for Ukraine. For example, the Jacyk Centre arranged for twenty or thirty historians from Ukraine within two years to go to Warsaw, to work in archives and libraries, and see how normal academia works. We funded the Institute of Historical Research at Lviv University out of Petro and Ivanna Stelmach's endowment,[6] and we also worked closely with eminent scholars such as Professors Yaroslav Dashkevych and Yaroslav Isaievych—which made, in some ways, Lviv a centre of our activity. I will discuss later whether this was a good strategy; I think it was. We also witnessed the arrival of Serhii Plokhii in Edmonton, who was our link to Ukraine for those years, from then on for the next fifteen. Coming from the then Dnipropetrovsk, he brought us another Ukraine, what was then Eastern and now may be Central Ukraine. And we had new projects, such as the Hrushevsky project, that were no longer carried out in isolation from scholars in Ukraine. The Ukrainian community responded to our initiatives, establishing many new endowments for our work in Ukraine, the largest of which being the Michael and Daria Kowalsky Fund to support projects in Eastern Ukraine.
If the institutes in both Harvard and CIUS had become international in outreach earlier, they became Ukraine-connected in this period. I cannot picture how we would have put out the Hrushevsky volumes without our Ukrainian colleagues; it has been a wonderful symbiosis. I was just at a Hrushevsky conference in Kyiv, and I was told that editors in Kyiv will be using our English version as a model for a new edition of Hrushevsky's original History of Ukraine-Rus' in Ukrainian. That is, all the work we have done on bibliographies, footnotes, and new material is now going to be put to use there in the new edition. The period of the early 1990s was one in which Ukrainian studies changed because of Ukrainian independence. This was a period when we acquired new constituencies, both government and media, and encountered new opportunities but also new demands on the Institute, some of which it had problems meeting while others it met quite well, down to the twenty-first century.
[1]    Prolog Research and Publishing Association (est. 1953 in New York).
[2]    Ukrainian-English Dictionary, compiled by C.H. Andrusyshen and J.N. Krett (Gospel Press, 1955, and subsequent editions).
[3]    Ukrainian acronym for the Federation of Ukrainian Student Organizations of America (www.cycta.org).
[4]    Christmas carolling at supporters' homes.
[5]    Harvard Ukrainian Studies (www.huri.harvard.edu/pubs/hus).
[6]    Institute of Historical Research (IHR) at the Ivan Franko National University of Lviv, founded in 1992 thanks to an endowment established in 1989 by Petro and Ivanna Stelmach of Mississauga, Ontario.