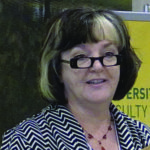 Susan Hamilton
Associate Vice-President (Research), on behalf of President David Turpin, University of Alberta
---
Ambassador Shevchenko, Honourable Linda Duncan, Professor Kravchenko, and my dean, Lesley Cormack, distinguished guests. My name is Susan Hamilton, and I am the Associate Vice-President of Research here at the University of Alberta. I am very pleased to bring greetings on behalf of our president, Dr. David Turpin. We honour and celebrate the Canadian Institute of Ukrainian Studies as one of the most important institutes here at the University of Alberta. Turning forty is quite an achievement, I say, on the other side of that number, and I should note that CIUS has now been in existence for more than a third of the history of the University of Alberta.
The government of this province gives the U of A the authority to develop, manage, and operate programs for cultural advancement. We take that responsibility very seriously. Resources are allocated only when we see both demonstrated need and broad academic support for the creation of a new centre or an institute. Creating and managing a large, complex institute like this one takes a dedicated team of academics, staff, students, and community champions. CIUS is so fortunate to have had champions from the Ukrainian community from its very early days, people like Manoly Lupul and Peter Savaryn, whose names appear all through the founding documents of this institute.
Our own institutional plan, "For the Public Good," reaffirms and recharges many of the efforts by our exceptional centres and institutes like CIUS. When we look at the strategic goals of that document, we can see specific ways in which CIUS is well positioned to continue to excel in the future. Our document says that we will build a diverse, inclusive community of exceptional students, faculty, and staff from Alberta, Canada, and the world, and CIUS can help us with that. Our document says that we will engage communities across our campuses, our city, our region, the province, the nation, the world to create reciprocal, mutually beneficial learning experiences, research projects, partnerships, and collaborations. We can see that broad academic and community representation right here today in this room.
A very recent strategic review of this Institute praised its international reputation as one of the strongest sites for Ukrainian studies and community outreach in the world. Looking forward to the next forty years, we can see great potential to build and engage for the public good, and hopefully also for the Ukrainian good. In closing, I would like to say mnohaia lita to CIUS. Wishing you many, many more years of success.