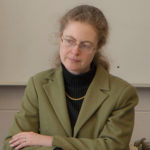 Heather Coleman
University of Alberta
HEATHER COLEMAN  is the director of the Program on Religion and Culture at CIUS and an associate professor in the Department of History and Classics at the University of Alberta. She is currently writing a book titled Holy Kyiv: Priests, Communities, and Nationality in Imperial Russia, 1800–1917. She is also the author of Russian Baptists and Spiritual Revolution, 1905–1929 (2005), co-editor (with Mark D. Steinberg) of Sacred Stories: Religion and Spirituality in Modern Russia (2007), and editor of Orthodox Christianity in Imperial Russia: A Source Book on Lived Religion (2014). She serves as editor of the Canadian Slavonic Papers/­Revue canadienne des slavistes.
---
I want to thank the speakers for some inspiring ideas, for moving forward as teachers in this area. I think that there are two key issues here. There is the issue of context, and that context is a happy story and a worrying story. It is, on the one hand, a story of certain structural pressures, the way that universities are working at the moment, the challenges of broader anxieties—the decline of the humanities, questions of whether faculty members are being replaced, questions of educational marketing—all of these sorts of questions are raised here. There is also the story of a change in the perception of Ukraine, the happy story of the normalization of Ukraine, of Ukraine being introduced into a range of non-Ukrainian courses and students recognizing Ukraine because, for better or for worse, Ukraine is in the news. And so there is opportunity, I hear, in what people are saying, as well as anxiety. I think that fundamentally there are two things.
First, there is a need for alliances—we all need to work together. And second, we are really hearing the story of the challenge—whether it is Ukrainian studies that we are promoting or the study of Ukraine and Ukrainian topics. What do I mean by all this? When I talk about normalization, I mean a different attitude toward Ukraine—people know more about Ukraine, and Anglo-Celts like me are studying Ukraine and recognizing it. And we have many people who were born in Ukraine and are now working in North America, either as students or regular visitors —and we are in constant interaction—for whom Ukraine is a given and not a question. So this changes the attitude toward the field as a whole. I think that coming from my perspective as a historian, my story is much like Dominique Arel's story in political science—it is the story of the flowering of Ukrainian studies. You know, when John-Paul Himka was a student and wanted to study Ukraine, he had to go and spend nine months in Leningrad and have his one brief trip to Lviv, because you could only go to Moscow or Leningrad, whereas I fell into Ukrainian studies because they closed the archive in St. Petersburg. I had been interested in Ukrainian studies, and because the archive in Kyiv was open, off I went to work in Kyiv. And so we have this shift.
I think that in the history department here, for example, we have a very active group of graduate students working in Ukrainian history. Students are drawn to Slavic history, and my colleague David Marples and I, and our recently retired colleague John-Paul Himka and Volodymyr Kravchenko have generally worked on mainstreaming Ukraine, putting Ukraine into all our courses. For example, when I teach second-year Intro to Modern European History, oddly enough, my example for nation building is Ukraine, and then my example for the challenges at the end of the First World War is Ukraine, and then my example for displaced persons after the Second World War is Ukraine, and so on. Ukraine works throughout as a theme in a general modern European history course. Coming out of the discussion we are hearing today, I do think that it is easier for fields like political science or history or anthropology to do this kind of mainstreaming at the undergraduate level, to pull research in, because we are teaching in English and there is an expectation that the readings will be in English. I am very interested to hear of Taras's [Koznarsky] efforts to do similar things through literature, and so I want to recognize that point.
Just to finish on that theme, I will say that those who are teaching languages, in Alla's [Nedashkivska] case, for example, face a different set of issues, because it is the language itself and not Ukraine per se or Ukrainian-Canadian studies per se, but it is the actual tools that are needed to do this work in a serious way. In first year, I ask students on the first day what foreign languages they read or speak, and I then explain that I am asking because not everything important in the world is written in English. Not all historical documents are written in English, and I cannot do my work without other languages. We need to start from the ground up, signalling the importance of language learning across the disciplines of Slavic studies. Part of the problem is that students often do not come to that realization until they advance in the program in political science or anthropology or history, and we need those language courses to be there when the students finally clue in and realize that this is a whole package. I do not know what the answer is, but I want to throw out that challenge.
I have a few small questions for our speakers, and then I will leave it to the audience. I am interested in your comments about the Prairie Centre, Bohdan [Kordan], and your view of that as a way of ensuring the future. And so I am curious about the personnel issues, because for us, I think, at the U of A, part of the issue is that we have this wonderful forty-year-old institute. But CIUS does not have any control over the decisions that departments make about hiring, and so the question is how to keep the ranks filled for the future. So I am curious about how we keep those lines of communications open with departments and show the importance of preserving Slavic studies, Ukrainian studies across the disciplines, when decisions are made at faculty and departmental levels instead of through the institutes. I am also interested in thinking about what happens to language as we make the courses more available in the ways that Taras is talking about. I completely agree, for example, that Russian literature is a gateway for us to draw people in, and then they find out how exciting the other Slavic languages and literatures are. How do we balance teaching in translation with teaching how to work in the Slavic languages at an advanced level? That balance applies not only to literature courses but also to history and anthropology and politics courses: to do those subjects well, you need a high and sensitive level of language skill.
Finally, I think the emphasis that people have been making on understanding and finding ways to communicate with today's learners is a very important point, and one that we need to pursue. I want to ask you, Alla: you mentioned lack of confidence, and I am curious about why you asked that—or why that was one of your criteria. And my second question is: does that not perhaps reflect the fact that more of your students are in lower-level classes