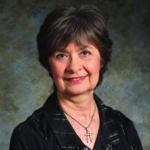 Olga Kuplowska
Canadian Foundation for Ukrainian Studies
OLGA KUPLOWSKA is a graduate of McGill University (BA) and the University of Toronto (MA in applied psychology). Her professional career has spanned two different fields: evaluation/communications research and corporate governance. She spent 32 years at Ontario's educational media organization, TVOntario, where she was the director of research for many years, and later its corporate secretary. Since retiring from TVOntario in 2006, she has continued working part-time as a corporate secretary, first for TFO (Ontario's French-language educational media organization), and since 2011 for the OmbudService for Life & Health Insurance. She has been an active member of the Ukrainian-Canadian community all her life, including serving on several Ukrainian-Canadian community boards. She has been the president of the Canadian Foundation for Ukrainian Studies since 2001.
---
I am going to be a little bit more low-key than Andrii [Hladyshevsky]. [Laughter.] I think most people have heard about the Foundation, but I know sometimes there is a lot of confusion as to what we actually fund and how we are set up. I would like to address some of the issues and challenges before us. Many of them are actually similar to some of the issues and challenges raised in the last two days.
First of all, some background information on the Foundation itself. The Canadian Foundation for Ukrainian Studies was established in 1975 by the Ukrainian Canadian Professional and Business Federation, and we are actually one year older than CIUS, so we celebrated our 40th anniversary last year. We were incorporated under federal law as a national non-profit charitable body, and as of February 2014 we have been continued corporately under the new Canada Not-for-profit Corporations Act, with no changes to aims and objectives. Under the new act we are required to overhaul our constitution, and this has some implications for some of our governing practices, which therefore affect our operations.
The general objectives established for the Foundation were: first, to be recognized by the community, by institutions of higher education, and by governments as a body that, through funding and other means, supports the development and enhancement of Ukrainian studies in Canada and elsewhere. Second, to build a base of endowed funding that consists of the Foundation's general endowment fund and also of individual endowments, the annual proceeds from which would be used to support Ukrainian studies in perpetuity. Priority is to be given to projects that initiate or expand Ukrainian studies at Canadian universities, all other considerations being equal. To reiterate, the Canadian Foundation for Ukrainian Studies focuses first and foremost on activities at the post-secondary level. There have been some exceptions in the past, and I guess it does not mean that there cannot be any in the future. But by and large, our focus is on Ukrainian studies at the post-secondary level.
As to the structure, the Foundation's work is guided by a national board of directors, currently comprised of ten individuals from Alberta, Manitoba, Ontario, and Quebec. We do have several vacancies to fill, and normally we would have people from some of the other provinces as well. Historically, members of the board have been drawn from the ranks of the Ukrainian Professional and Business Federation, and this began to change in the late 1990s as local chapters of the professional and business clubs either became less active, began to redefine themselves, or moved in a different direction. Most of the current members of the board, though active and very prominent in the Ukrainian-Canadian community, are not necessarily members of the P & B associations, and that is another issue that comes up when we are recruiting members for the Foundation. In addition, and this was the case until recently, we also used to have three ex officio members on our board—the director of CIUS, the president of the Ukrainian Canadian Professional and Business Federation and editor of the Encyclopedia of Ukraine while it was being published. But under the new Not-for-profit Corporations Act, ex officio positions have been disallowed, and we are now in the process of exploring different ways to incorporate academic guidance, possibly through an academic advisory committee attached to the Foundation.
At this point, I would like to thank Professor Frank Sysyn for his years of invaluable service as proxy for the CIUS director: he has served for many years, coming to all of our meetings, and his service has really been invaluable.
The executive committee is responsible for day-to-day activities. All board members serve as volunteers, and no one receives any financial compensation for their time, other than travel expenses to annual board meetings. I mention all these things because very often people want to donate money, and they like to know how the Foundation operates. We are very professionally managed: we have audited statements, comprehensive records, all meetings are "minuted"—in other words, we are very transparent. We do have a website, perhaps not yet as energetic and maybe as interactive as yours [referring to the updated website of the Shevchenko Foundation], but we will get there. It does have all the information about our various programs. The head office is currently in Toronto, where it has been since the 1990s. Previously the head office was in Edmonton, Vancouver, and in Winnipeg, depending on where the presidents were. I am happy to say that Mr. Peter Savaryn was one of the early presidents of the Foundation [acknowledging Mr. Savaryn in the audience], and he has left an impressive legacy.
In terms of our net assets, as of the end of December 2015, our assets were nearly $3m, and this does not include the $300,000+ that we transferred over the last twenty years to Canadian universities to take advantage of matching-fund programs. I will speak about that a bit later.
Of the $3 million that we have, 40 percent has come from larger or major donors, and these donations have been used to establish funds that in most cases carry the name of the donor. However, 60 percent of the funds come from modest donations, ranging anywhere from $50 to $1,000, that have been collected over the years. Virtually all of the donations, be they major or modest, have come from individuals of modest means. This echoes what Bishop Borys said earlier about our chairs and institutions being founded and built by ordinary, hard-working people in the community who believe in education, have a sense of mission, and respond with passion. That fact has never been forgotten by the successive boards of the Foundation. It has always been front and centre when key financial and other decisions have been and continue to be made.
How is this $3 million broken down? We have thirteen programs or funds, all of which, except for two, are restricted or designated for specific purposes, and the designations were made by the donors who set them up. In all cases, be they designated or not, the programs are for the most part endowed, meaning that we can only disburse the earned annual income. Both of these conditions present challenges or issues that I will be addressing shortly.
In addition to the funds that we hold and manage, there were four other funds that we used to hold but transferred to universities to take advantage of matching-fund programs. One went to the University of Toronto, two went to the University of Alberta, and one to the University of Victoria. These transfers involved substantial funds in each case. In three cases it was $100,000, and each of these situations presented us with some learning experiences, which I will also bring up shortly. While there are obvious benefits to arrangements where we transfer funds to universities in order to obtain matching funds, there have also been some challenges.
I would like to say a few words now on how much the Foundation has disbursed over the years. Since its creation in 1975, the Foundation has disbursed close to $3.5 million in grants. On average, that would be about $87,000 per year, although probably we disbursed less in the earlier years. But certainly for the last five years, since 2011, we have been disbursing over $100,000 annually, and last year, in 2015, we actually disbursed a record $125,000, the highest amount to date. What has been supported with all this money? I am happy to say that in spite of program restrictions or designations, a wide diversity of projects and activities have been supported, and they are wide-ranging: various academic press publications, academic conferences or symposia, public as well as more student-oriented lectures and seminars, academic exchanges, scholarships, fellowships, library collections, teaching of new university-level courses, research activities, and distribution of educational films. The Foundation was the primary financial supporter of the Encyclopedia of Ukraine, and now continues to support, in a significant way, the Internet Encyclopedia of Ukraine. In terms of geographical or institutional diversity, over the years the Foundation has supported activities and scholars at pretty well every university in Canada where Ukrainian studies take place.
It is true that projects and scholars at the University of Alberta and the University of Toronto have been beneficiaries more frequently and have received possibly close to 60 percent or maybe more of all of the distributed funds. This is not surprising, since most of the funds that we have are targeted or tied to specific programs at these two universities. We also have two funds designated to support activities at national universities of Ukraine, the Kyiv-Mohyla Academy and the Ostroh Academy. But other than that, all our funds are directed toward activities in Canada. Looking at all of this, we can say that the Foundation has definitely been fulfilling its mandate, and at quality levels.
However, we are also facing issues and challenges, and, not in any order of priority, some of the things I am going to mention have actually come up on earlier panels. The first one is matching existing funds, the ones that we have, with new and emerging needs and various incoming requests. As I have mentioned, most of our program funds are designated: they support existing programs or activities at universities, or specific scholarships. This means we have next to no flexibility to address new priorities, new needs with the funds that we have. And yet, as we have heard from the other panellists, priorities are shifting. It also means that we have few discretionary funds for small, one-off projects: a seminar, a visiting lecturer, a small publication, a student scholarship, anything that does not fit into what we already have.
At the same time, we have a couple of designated programs—and both of them deal with the fields of communications and journalism—for which in recent years we have actually had difficulties attracting qualified candidates. There are different reasons for this, which I can go into later. But it means that those funds have been sitting idle when there are no qualified candidates, yet we cannot redirect the funds toward other purposes because there are signed agreements and we need to respect them. We are currently reviewing other aspects of those programs to see what can be modified or tweaked or maybe looked at in different ways. So this brings up the issue mentioned the other day by Professor Marples, and I think others as well—the need, perhaps, for less restrictive or more open terms of agreement. However, the reason why many donors are so specific, and I am talking those who have approached us, is that in their opinion, the particular area they would like to fund is not being addressed, or sufficiently addressed, by academics, and they feel that their fund may encourage work in a certain direction. On the one hand we would like something less restrictive, and on the other hand people feel that gaps need to be filled, and that is why they are giving money. We are considering whether short-term specificity might be built into our terms of agreement, or allowance made for periodic reviews and updates.